Let's talk about your project!
Schedule an online meeting with our MagicINFO experts.
Discus your signage goals and project.

Discover the unique benefits of MagicINFO.

Discus customization or the need for MagicINFO add-ons

Dive into specific features that fits your needs.

Get your questions answered directly in the one-on-one meeting.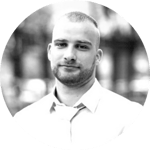 "To really get a good idea of the software and the many options, we recommend always to talk to one of our consultants. So we can guide you to the best solution that will help you to achieve your goals with digital signage."
- Ivan Genov, Sales Operator/Consultant